Learn more about us and what we can do.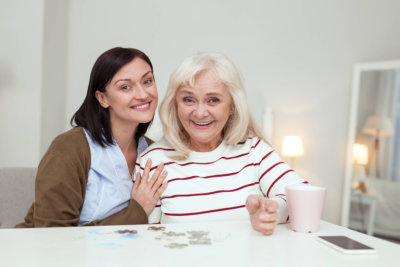 Who We Are
Alabama Senior Center Adult day Care benefits seniors and their families by enabling designated family caregivers to find a healthy balance between work, home, and the responsibilities of being a caregiver. The family caregiver can now enroll their senior family member into a senior day care program to watch them on a daily, weekly, or monthly basis.
While family caregivers are at work, running errands, or taking a break, the seniors enrolled in Alabama Senior Center Adult day Care are enjoying a day filled with friends, laughter, and enriching activities that foster self-esteem and a positive outlook. Giving the senior a day more fulfilled, where each senior receives the necessary monitoring and personal care needs to have a productive and emotionally rewarding day.
Alabama Senior Center Adult day Care is a cost-effective care option that can sometimes delay the need for nursing home placement. Alabama Senior Center Adult day Care may prevent the extra costs associated with in-home care by providing the necessary daily care for your beloved senior inside the supervised Alabama Senior Center Adult day Care facility.
Our Mission
ASC's mission is to provide quality care for seniors; however, our senior members' families are also important to us. ASC offers support and education to help alleviate the stress that family caregivers often experience.
Our Adult Day Care Center Offers:
A Supportive and friendly environment where seniors can bond with people their age
Engaging activities where they can take part in entertainment, creative arts, discussion groups, field trips, and other activities
Individualized care in a group setting
Care services offered by a compassionate professional team of medical professionals, recreation specialists, therapists, and certified nursing assistants
Companionship and other services to help prevent isolation and reduce depression and anxiety
A structured community setting where they can receive nursing care, supervision, and socialization to promote their emotional, physical, and intellectual health
Support for older adults with memory disorders and other health conditions in maintaining or regaining their independence and maximize their potential
Days filled with a variety of activities to meet each client's special needs
A cost-effective alternative to other long-term care choices
Why Choose Us?
Subsidized funding is available for those who qualify. Medicaid recipients may also be eligible through long-term home health care programs.
We have a team of professionals that provides expert geriatric care within the community.
Our experienced staff provides top-quality care, serving a diverse group of seniors.
ASC offers meaningful activities where members of all abilities maximize their strengths and discover new interests.
The key benefit of our adult care center is while seniors can have a community of peers that enable them to make new friends, it is still small enough for the individual attention that a quality senior life requires.
Sample Day Schedule
7:00 – 8:00 Breakfast
9:00 – Thankful For
10:00 – Group Activity
10:00 – Selected Entertainment
11:00 – Brain Stimulation Activity
12:00 -1:00 – Lunch
1:15 Dance – Music Therapy
2:00 Entertainment & Activity
3:00 Afternoon Snack
4:00 Companionship Social Activity
5:00 Departure
Program Hours
Please Note: Hours can be customized to accommodate work schedules.
8:00 a.m. – 5:00 p.m.
Transportation services are available. Please call the Client Care Coordinator for more information at 251-264-3009.